Back in the day, guest books started out as a simple log of those who had attended a wedding ceremony. This type of guest book is still seen at many weddings today, in some cases slightly expanded to include a small comments section for well wishers to the newly married couple.
However, this traditional form of the guestbook has begun to evolve and change in many ways over the years and couples are starting to use increasingly more unique and interactive varieties at their weddings. Many of them are no longer actual books at all. Here are five fun options I've come across:
Fabric Quilt Guest Book
Have guests sign fabric squares that you can sew together into a quilt that will serve as a warm and fuzzy memory of your wedding day.
Photo by Ashlynn Ramirez Photography via Wedding Bee
Photo Booth Guest Book
Set up a photo booth or hire a photographer to run one for you. Then have your guests insert their photos in a blank book along with a personal message. The booths will often print two identical photo strips so that your guests will have one to take home as well.
Photo from Wedding Wire
Postcard Guest Book
This one is from my own wedding. The hubs and I both love to travel and incorporated that into our wedding. We collected postcards from all of the places we had been and had each guest fill one out for us and drop them into a suitcase. We had so much fun reading all the messages from our family and friends afterwards.
Photo by Chris and Adrienne Scott Photographers
Wishing Tree
Wishing trees have been gaining more popularity as of late and I absolutely love them! Guests can write well wishes to you and hang them from the branches. I have seen some gorgeous centerpieces incorporating these trees. Check out a shot of the lovely wishing trees that adorned the tables at Brittni and Andrew's wedding  on Ariel Renae's blog here.
Finger Print Guest Book
These thumbprint guest book sheets are super cute. You can get them in all different kinds of designs from bikes to trees to flowers. Guests can sign their names over their print, or simply leave the mark itself. You can find all different versions of these from many different sources online. The adorable one below can be found on Silhouette Wedding's etsy store here.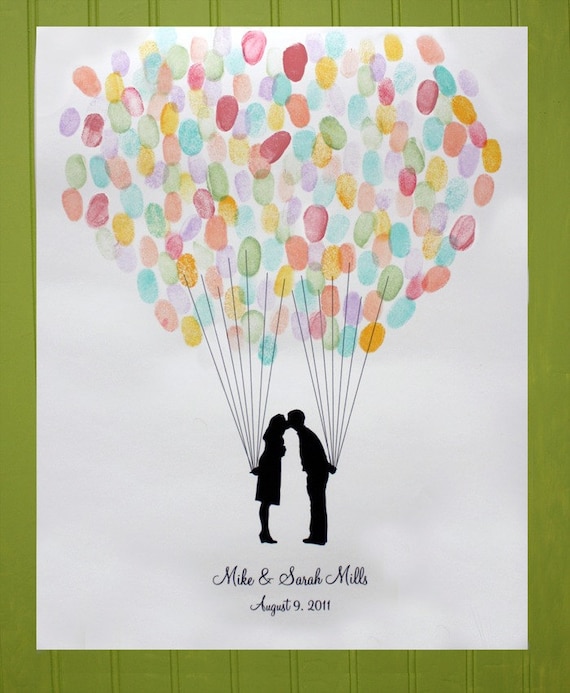 What are your favorite, creative guest book ideas?