When it comes to sending out wedding invitations, the options are endless. You can buy premades from a card store, print free templates online or have an entire invitation suite made personally for you by a designer. However, if you feel the traditional invitation just won't cut it when it comes to representing who you are as a couple, here are five unique ways to ask your guests to be a part of your day.
Blow Your Guests Away (just don't blow on these)
I have a thing for vintage hankies. I have taken to collecting them whenever I see them at the flea market or in an antique store. Something about them just gives me a warm, fuzzy feeling inside. These invitations from Benign Objects' etsy store are  printed on vintage-style handkerchiefs that would be perfect for a summery, outdoor wedding or garden party. They'd also be super cute for a shower or bridesmaids brunch.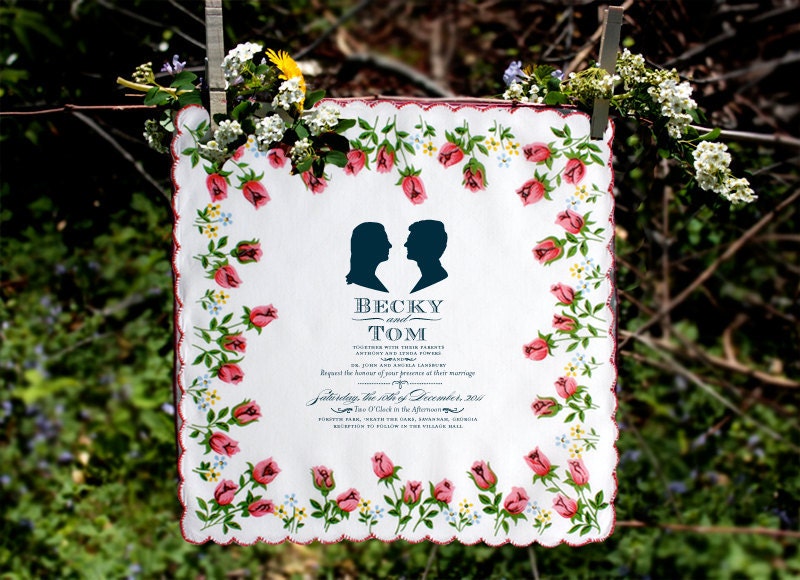 Book-It:
Remember Book-It? I've had my nose hidden in a book pretty regularly since the Book-It days of elementary school. There's just something about wandering through a library or sifting through the musty stacks in an old book store that has a certain appeal. For you others out there with a love for literature, these library card invitations (found here )and save the dates (here) are such a unique way for a couple to display their appreciation for the written word. And the Dewey Decimal system.
Make A Show of It:
Living in Nashville, you can't miss the incredibly cool, custom letterpress posters that Hatch Show Print churns out for concerts and events. Their unmistakable style easily translates into an awesome wedding announcement that's a little bit country, a little bit rock 'n roll. While Hatch has been limiting the amount of wedding jobs they can take on, many design companies offer Hatch inspired looks.
 Photo from The Knot via Wedding Aces.
How awesome is this invite modeled after a vintage boxing poster? From Whirly Bird blog.
Give Them Something to Play With:
Remember loving these viewmasters as a kid?  I wanted a new one to commemorate every cool family outing or event. A trip to the zoo would result in a viewmaster so that I had photos of all the animals we met. If you send 7 images to Melangerie's esty shop with your wedding details, you can get souvenir worthy viewmaster invites for all your guests.
Provide Entertainment Value:
Everyone loves a good movie, right? Show your guests a good time with a video wedding invitation. Go super artsy or do something fun and animated or action packed. Send to your guests on a DVD and give them some good ole' fashioned TV watching pleasure. The first clip below is incredible cute and funny and the second, while being a Save the Date and not a technical invite, had me rolling.
Whatever type of invitation you choose, be it a wacky, out of the box approach or a more traditional paper suite, the most important thing is what stands for: asking those you care about most to be with you as you become man and wife.